Thermi Injectable RF Workshop with Dr. Brian Kinney
The Surgery Center at Centuria Medical Makati held a power breakfast workshop about Thermi Injectable RF at 7:30 am last January 25, 2016. Thermi Injectable RF is a new frontier in facial contouring and a micro-invasive single treatment solution for skin laxity.
The workshop was headed by guest speaker, Dr. Brian Kinney, a reputable and skilled board-certified Plastic Surgeon with years of practice using ThermiRF machine. Dr. Brian Kinney remains sought for teaching at national and international conferences where he had performed live surgery and injections in worldwide locations, such as Moscow, Copenhagen, Vienna, Rio de Janeiro, Sao Paolo, Belgrade, Buenos Aires and Mumbai (India).
Dr. Brian Kinney first discussed how the technology of ThermiRF started and how it managed to be one of the top notch minimally-invasive treatments. He provided a comprehensive lecture in front of invited doctors and performed a live demonstration in one of the operating rooms of the most modern and state-of-the-art facilities of The Surgery Center. During the live demonstration, he explained the step by step process of using the ThermiRF machine to a patient.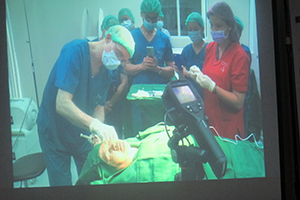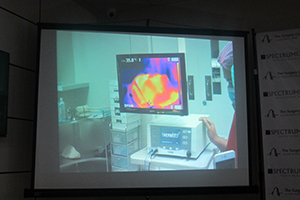 ThermiRF has a line of aesthetic applications for injectable RF treatments: ThermiTight for skin laxity and sculpting; ThermiRase for toxin-free glabella relaxation and ThermiDry for axillary hyperhidrosis. ThermiRF also has a line of aesthetic applications for non-invasive treatments: ThermiSmooth for skin laxity and smoothing and ThemiVa for vaginal laxity.