Innovation Drives Us. The Future Inspires Us.
PicoSure® is the world's first and only picosecond laser for multiple aesthetic treatment applications. PicoSure® delivers ultra-short bursts of energy to the skin in trillionths of a second, enabling unmatched photomechanical impact or patented PressureWave™. Picosecond pulse width is 100 times shorter than nanosecond technology, enabling photomechanical impact to shatter targets without injury to the surrounding skin.
Multiple treatment applications:
Pigmented Lesions
Skin Rejuvenation
Melasma Management
PicoToning™
Acne Scars
Wrinkles
Tattoo Removal
Unprecedented innovation

755 nm wavelength
550-750 picosecond pulse duration
Boost™ for 70% pressure increase
FOCUS™ Lens Array

Only PicoSure™ uniquely treats pigment, melasma acne scars and textural inconsistencies with FocusTM
Offering high patient satisfaction, this practice differentiating procedure is comfortable, quick and easy to perform.
Impressive results, virtually no downtime
Pigment, tone and textural improvements
Safety and efficacy in all skin types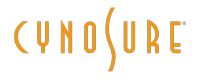 Cynosure is a leading developer and manufacturer of a broad array of light-based aesthetic and medical treatment systems. Our products are used to provide a diverse range of treatment applications such as hair removal, skin revitalization and scar reduction, as well as the treatment of vascular lesions.
As a physician or aesthetic business owner, we believe that you will find that aesthetic laser applications are a logical extension of your current service offering. In fact, acquiring the requisite knowledge and capabilities to provide aesthetic laser applications may simply require "tweaking" your existing skill set.